One of the largest ophthalmology and refractive practices in the D.C. area.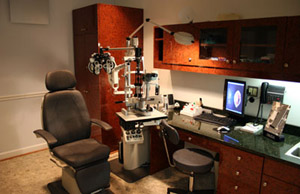 Since 1989 The Eye Center has been on the forefront of vision correction procedures. Dr. Boutros and The Eye Center are two names that have come to define a standard of excellence in vision correction. Dr. Boutros has spent the last 30 years refining the vision correction process.
When you have iLASIK at The Eye Center, your treatment is based on specific measurements that are taken during your extensive, dilated, pre-operative examination. iLASIK introduces a new level of accuracy to the vision correction procedure.
The Eye Center has provided outstanding eye care for Northern Virginia communities since 1989. Our reputation is unsurpassed in both regular eye care services and surgical procedures, and as well, we have been leaders in the field of laser surgery. Our LASIK program provides unparalleled professionalism, follow-up care and guidance. The Eye Center is the one of top centers for LASIK in VA. At the Eye Center, the patient is the number one concern, thus our slogan: Better Vision Through Better Care
Top Reasons to choose The Eye Center for LASIK and Eye Care
30 years of Vision Correction Surgery Experience
The Eye Center has performed over 40,000 successful vision correction procedures
iLASIK at The Eye Center combines the safety of Intralase with the precision of Advanced CustomVue
One of the top iLASIK surgeons in the Country
Providing Safe and Successful Surgical Procedures
International Reputation in Laser Vision Correction
Surgeon ranked among the top 100 refractive surgeons in the country
Top Center for LASIK in VA, DC, MD (Virginia, Washington DC, and Maryland)
LASIK patients can take advantage special financing options
LASIK Eye Surgery / Vision Correction Experts
Providing the best iLASIK / LASIK in VA
Now providing Pediatric Ophthalmology and Adult Strabismus
Outstanding Care and Personalized Service to Patients
Effective Integration of Medical Science & Advanced Technology
Experienced & Caring Group of Ophthalmologists, Optometrists & Opticians
Excellence in the Field of Ophthalmology
State-of-the-Art Equipment
Visx Star Surgeon
Five convenient locations in Northern Virginia (Leesburg, Sterling, Alexandria, Fairfax, Manassas)
Visit our Testimonials page to read what some of our patients are saying about the iLASIK procedure and our eye care services.